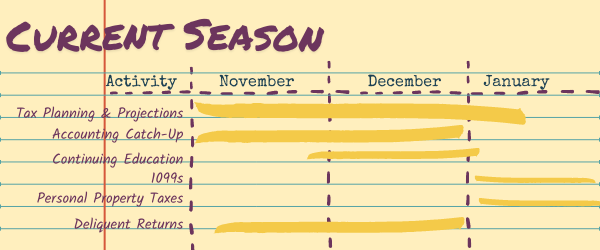 Let's get to work
Processes, Links, and Resources
Let's get to work
Processes, Links, and Resources
Maybe we've met virtually for coffee once. Or maybe we've been working together a long time. Regardless, this client kit was made for you. Use the links above or keep scrolling to find a section for Individuals, Businesses, and New Clients. In each of these sections, you'll find access to information to the right and more.

Communication
Email is the primary form of communication. It can take me a week or more to respond to some emails. In the mean time, check your email and make sure you've answered any outstanding questions.
Engagement Letters
Engagement letters define and outline the terms of the engagement between you and Crayon Advisory, LLC. For annual tax returns, these will start to be delivered to you via email mid-December.
Organizers
A link to your organizer will be included with your engagement letter. These are forms built with conditional logic. They are re-set annually. They may not be available with the distribution of engagement letters.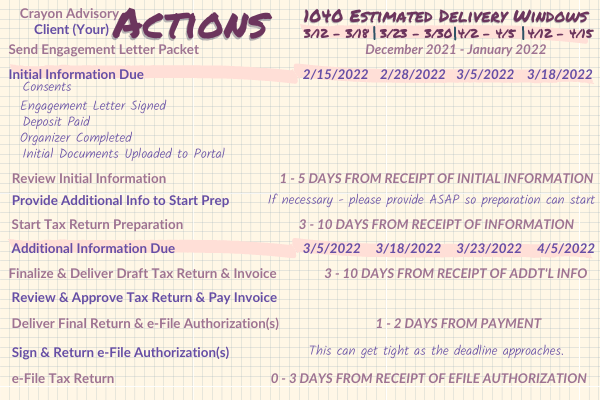 Initial Information
Between the middle of December and the end of January, you will receive a welcome or welcome back packet that will help you gather the information necessary for your tax return.
Tax Return Prep & Delivery Windows
The timing for the 2022 filing season (2021 tax returns) is operating based on windows. Your tax return delivery will be scheduled based on when your complete information is received. That timing is dependent in part on you providing information by specified due dates.
Secure Client Portals
We use two portals: Suralink and Onvio. A detailed list of information needed for your tax return preparation is kept in Suralink.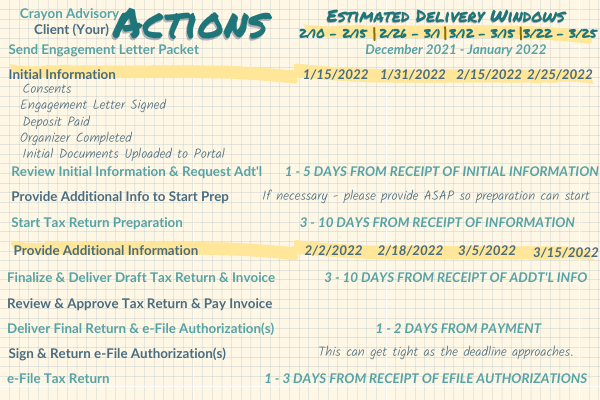 Let's get your Taxes Done
Businesses
Let's get your taxes done
Businesses
You went into business to do the things you do. Whether you're DIYing your accounting, need some help and education in being able to DIY your accounting, or 
Business Organizer
If you have a business that files a separate return from your personal tax return (i.e. an S-corporation, Partnership, or C-corporation), you'll need to complete a separate organizer for the business. Click here to sign your engagement letter and get started on your organizer.
Consent to Disclosure
If you're working with another professional and would like me to communicate with them about your taxes, I need you to fill this out. Yes, I need a new one for each proffesional you need/want me to collaborate with.
Onvio - Secure Client Portal
Your content goes here. Edit or remove this text inline or in the module Content settings. You can also style every aspect of this content in the module Design settings and even apply custom CSS to this text in the module Advanced settings.
Accounting Software Access
Following are common pieces of accounting software businesses use. If you haven't granted us access to these yet, you can use the links below to do so.
Xero
Freshbooks
Wave
Hurdlr
Quickbooks Online
Gusto
Zenefits
ADP
Paychex
Additional Resources
From selecting a payroll provider to making tax payments to filing certain taxes, we've got you covered.
Accounting software isn't one size fits all. We help you find the right fit for you and your business, both now and in the future. Check out our recommendations below, and reach out to schedule an appointment to discuss further.
Freshbooks
FreshBooks – https://freshbooks.com – is pretty. It can be a little easier to look at because there is no white space – it's very neurodivergent friendly. The software is a bit more prescriptive in its approach to doing the accounting. This can be a good thing, as you're essentially forced to do things correctly. Pricing starts at $25/month in order to give an accountant access. I sit on the FreshBooks Advisory Council, which means I'm one of 20 accountants across the US and Canada telling the company what's working well for us and our clients, and what direction the software can/should go in.
Xero
Xero – https://xero.com – is minimalist in its design approach. This software starts at $11/month and includes a receipt manager with it called HubDoc. The software has many bells and whistles that can be overwhelming. The bells and whistles aren't shoved in front of your face and are pretty easy to ignore. This is a software I can set up for you, and then you get emails to get into it.
Wave
Wave – https://waveapps.com – is free. Yes, it's completely free to use. It is a little clunkier to use, but is fully functional. It has almost no bells and whistles. Businesses who have no need of third party app integrations, project management, or significant automation procedures end up doing just fine inside this software. The price is right though, and you may be able to grow from Wave to something more robust over time. There is a risk to doing this in that you may not be able to bring in historical data to your new software easily. This isn't always a problem, and solutions can always be discussed at the time of change.